How to Write a Unique Scholarship Essay That Stands Out?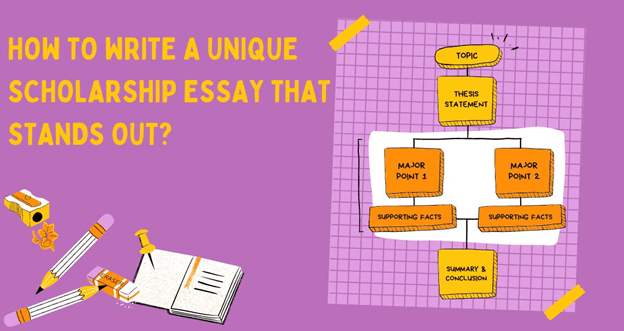 Getting your degree is not an easy game these days. You need to have your pockets filled to enter top-ranked university programs. Tuitions fee are increased almost by 80% to 100% in most colleges and universities in recent years and still to increase more. And that's the reason, most students fail in life as they get study loans and spend years to repay that.
Scholarship Essays is a Way to Prove Yourself
Scholarships are a ray of hope and a helping hand for students struggling to pay their tuition fees. University scholarship is not granted rather you will have to earn it by showing your skills and by proving that you deserve it. And scholarship is the platform where you prove to the committee that you're an asset and that your university should invest in you in the form of a scholarship.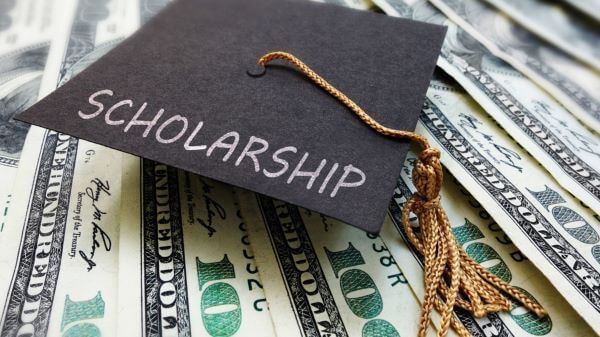 Tips to Write Exceptional Scholarship Essay
Don't lose sight of the fact that you're not alone lurking for the scholarship. Hundreds of your university fellows would be applying for it and you will have to compete with them. And the only way to win is to make your scholarship essay stand out from these hundreds. We're here to suggest you some tips to make your scholarship essay stand out to increase your chances to win the committee's favor.
1. Give an Engaging Start
When there are hundreds of applications on the table, you will have to give your scholarship essay that catches your attention right from the first line. Grab attention and touch the hearts right from the beginning and wait for the scholarship approval. If you will ask the scholarship winners, they will make similar statements. So it's the basic idea to start brilliantly to make your scholarship essay stand out.
2. Get Personal
The success of a scholarship essay is easy when you make it personal. Be you and explain your point of view in the most genuine way. Try to make the connection with the readers by relating your scenario to them. It will make your scholarship essay stand out from the crowd and you will have a better chance of getting on the top recommendation list.
3. Point Up That Makes You Unique
No one has yet formulated the tips and steps to write the perfect scholarship essay. But the words from the winners suggest that the chance of winning increases when you make it unique to stand out from the crowd. And you can't deny the fact that you are unique in the whole world, so highlight yourself. Tell them why you're passionate about the degree, studies, and career. Tell about the struggles in your life that you faced gaining an education.
To put it in a nutshell, you have to impress the committee members or the judges by telling them about you, your struggles, and your aims. Once they believe in your words, you will soon see them putting an approval stamp on your scholarship essay.
4. Tell Your Story
You would have seen viral stories on social media where the main crux of the story is the struggle of a person to achieve something in life and to be something in life. I would have seen at least hundreds of such short videos or stories. Such stories click the brains and touch the hearts.
Use this technique and tell the judges your story. Tell about your life and the struggles but don't exaggerate to make it look fake. Your words should have been felt so that you may connect with the members of the committee.
Make it unique, don't copy someone's story because that may result in nothing but embarrassment. To check the uniqueness, you can always Google "plagiarism checker" to find some free online plagiarism checkers. Put your scholarship essay into the box and check if your story or the content matches someone else's.
5. Be Précised and Specific

Don't kick the can down the road for no reason, be specific and to the point. Fix it in mind that the reader of your scholarship essay is not a person with free time. He or she has to read hundreds of such applications or essays. So be specific and to the point to keep your essay full of stuff, not just words. If something can be said in one phrase, don't your skills to prolong it to paragraphs.
If you feel that you have been wordy at some point, you can use a text summarizer. Text summarizers can be found online which may help in getting the text short and summarized using an automated process.
6. Think Outside the Box
Don't be scared to break the stereotype. We already made you realize that you are unique in the world so think differently. If everybody is following a pattern or template, don't follow them. Make different moves but keep the motive in mind. You have to win the race and that can only be done if you will stand out.
As we already discussed, telling your real-life stories and personal experiences is a way to be different than the others. You can discover such things when you will sit to write, or when you will communicate with other competitors.
7. Proofread and Submit
Even if you have done everything perfectly, don't submit it instantly. Proofread it from start till end. Make sure it's unique and plagiarism-free. The easiest way to check for plagiarism is to use an 
online plagiarism checker
. Find the best plagiarism detector and rephrase the lines if the plagiarism checker highlights it as plagiarized.
Once plagiarism checking is done, proofread it again. You can check for spelling errors and grammatical mistakes. You can do it manually or tools are also available to assist. Once you are 100% sure that you're going to rock, ask some of your friends or teacher to proofread it for you because we often overlook mistakes in our work. That's why the second eye is always helpful in finding mistakes.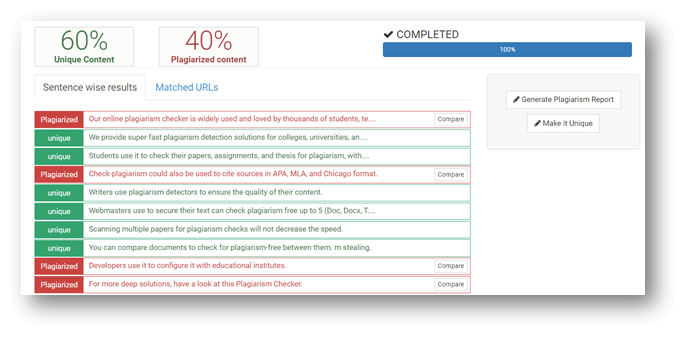 The Last Step
After proofreading, it's time to submit. Submit your scholarship essay with confidence and wait for approval. If you would have followed these tips and tricks, congratulations! Your scholarship approval is on the way.